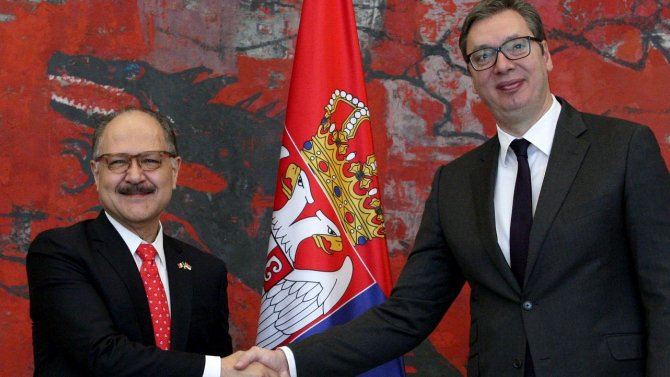 7 April 2021
President of the Republic of Serbia Aleksandar Vucic received today the letters of credence from the newly-appointed Ambassador of the United Mexican States Carlos Félix, and wished him welcome and successful work in our country, which begins in the year marking the 75th anniversary of diplomatic relations between our two countries.
President Vucic expressed his belief that Ambassador Félix, with his diplomatic skills and with the help of our side, would make a significant contribution to the development of comprehensive ties between Serbia and Mexico.
Ambassador Félix expressed special satisfaction that he would spend this diplomatic mandate in Belgrade, where he had already served.
President Vucic and Ambassador Félix stated that the relations between Serbia and Mexico were friendly and based on mutual understanding and support, but that it was necessary to intensify political dialogue and strengthen economic and any other cooperation.
President Vucic thanked Ambassador Félix for the support of Mexico to the territorial integrity and sovereignty of Serbia, as well as for its consistent and principled policy of respecting international law.
Ambassador Félix conveyed the greetings of President Obrador and Mexico's position that it had many common interests with Serbia, including cooperation at the multilateral level. The two interlocutors agreed that sovereign states with independent policies should connect and cooperate more.
President Vucic returned the greetings to President Obrador and announced that the high-level Serbian delegation would attend the celebration of Mexico's triple anniversary in September this year.
Source: www.predsednik.rs
Photo: Dimitrije Goll