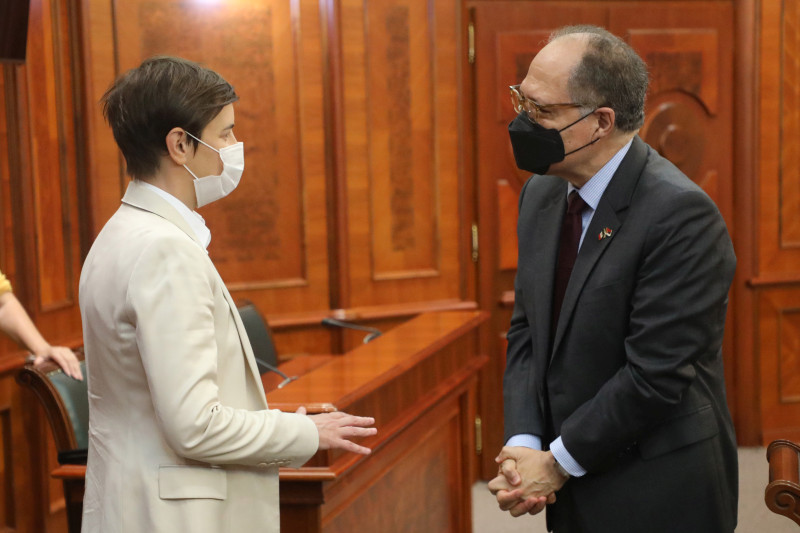 21 June 2021
Prime Minister Ana Brnabic talked today with the newly appointed Ambassador of the United States of Mexico to Serbia Carlos Felix about the continuation and strengthening of economic cooperation, especially in the pharmaceutical and IT industry, telecommunications, construction and in the field of tourism and trade development.
Brnabic welcomed the ambassador, expressing satisfaction on the occasion of the 75th anniversary of the establishment of diplomatic relations between Serbia and Mexico.
The Prime Minister also congratulated the Ambassador of Mexico on the three important anniversaries that the country is marking during 2021.
It is Mexico, which is a non-permanent member of the United Nations Security Council in the period 2021-2022, expressed gratitude for the principled position and consistent support for the inviolability of the sovereignty and territorial integrity of Serbia.
Brnabic said that Mexico is a country that Serbia highly appreciates and that, as Prime Minister, she is looking forward to future cooperation, as well as soon visits at the highest and highest level from that country, which will mark a good new beginning in bilateral relations after the coronavirus pandemic.
Recalling that Mexico has always had good relations with Serbia, dating back to the former Yugoslavia, Felix stressed the need to expand interstate cooperation in the fields of economy and trade, and tourism in particular, given that potentials exist with both sides.